We often hear the public, journalists and politicians commenting on the exuberant pay of CEO's in Australia and abroad, especially when compared to both shareholder returns and the wages of the average worker. Less frequently we hear them comment about owner operators who pay themselves less than they deserve mainly to the benefit of shareholders.
This may seem counter intuitive, but there are some compelling reasons an owner/executive may want to pay themselves less.
These reasons include:
They may have a large shareholding in the company,
They understand that the market prices a company predominately based on its earnings, and
It can make sense from a tax perspective.
The best example of this type of CEO is Warren Buffett, the CEO of Berkshire Hathaway, who is paid USD$100,000 a year to run a USD$300 billion+ multinational conglomerate. As our investors know, we are big fans of Warren Buffett and hold Berkshire Hathaway in our International Opportunities Portfolio. We love his honesty, integrity and his ability to grow shareholder value.
Despite this love, we don't think it's out of charity that he pays himself this low wage compared to his peers.
Usually when Buffett is probed on his low pay he responds with words to the effect of, "the extra money would be of no utility to me".
However, what goes unsaid is that Buffett understands two things very well: compound interest and the market value of earnings. The following tables illustrates this remarkably well.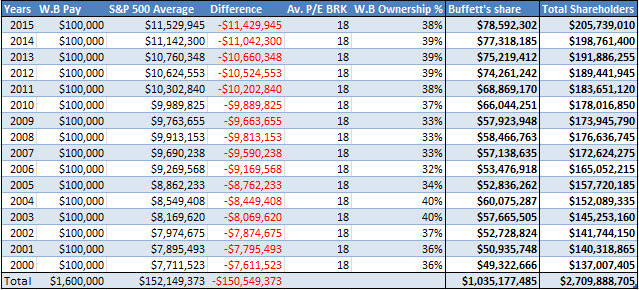 Source: See Methodology at end of article
This table provides a glimpse into the magnitude of wealth that Buffett has created for shareholders by not paying himself the S&P 500 CEO average wage.
So let's break it down:
Firstly, Buffett pays himself $100,000 a year and has done so for a very long time.
By subtracting the difference between the average S&P 500 CEO wage and Buffett's wage we find that Buffett has forgone a staggering $150 million in wages for his utility over 16 years.
The Price to Earnings ratio, which tells us the price we pay per $1 of annual earnings is now used to multiply the difference.
In Berkshire's case, every $1 in earnings trades for $18 on the market (rough calculation).
So when Buffett saves $1 on his wage, shareholders receive $18 of market value
Over the course of the last 16 years Buffett has created $2.7 billion in extra wealth for shareholders by doing this and over $1 billion for himself
While this is great for Buffett and shareholders, the real magic is that each dollar saved is then compounded within Berkshire. This creates further market value, as the best capital allocator to ever live has an extra dollar to invest.
For example, CEO's were paid roughly $111,000 in 1965, while I estimate Buffett was paid $10,000. So again the difference is substantial, $101,000. However, as history tells us Buffett got a 20% return on this dollar annually:
$1 at 20% annually over 50 years = $9,100
$101,000 at 20% annually over 50 years = $919,100,000
By not paying himself that extra $101,000 in 1965 Buffett has produced roughly $919 million over 50 years for Berkshire Shareholders, an extraordinary achievement.
We know of a few ASX CEO's that need to see a doctor for financial self-harm.
Note: unless otherwise specified, all dollar figures used are in USD.
Methodology
Warren Buffett's wage/ownership taken from DEF 14A SEC filings
Average S&P 500 CEO wage calculated at 250x the average worker in the USA
18 assigned P/E ratio
CEO wages were roughly 24x the average worker in 1965, according to the Social Security Service the average worker was paid $4,658.72
We assume Warren Buffett paid himself a bit more than double the average worker in line with today
Subscribe for Updates
Important Information
This document has been prepared by Farnam Investment Management Pty Ltd (Farnam) ABN 15 149 971 808 AFS Licence 430574. While every care has been taken in the preparation of this document it does not contain any recommendations to buy or sell any particular stock(s) noted. Farnam makes no representation or warranties as to the accuracy or completeness of any statement in it including, without limitation, any forecasts. The information in this document is general information only and is not based on the objectives, financial situation and needs of any particular investor. An investor should, before making any investment decisions, consider the appropriateness of the information in this document, and seek professional advice, having regard to their objectives, financial situation and needs. Past performance is not a reliable indicator of future performance. The information provided in the document is current as the time of publication.
Related posts